(The Anthem of the Soviet Union should be in your head whilst you read this post).
So comrades, this one's been a good while in the making. Years in fact.
Once upon a time I had the idea to make some monuments from the old Soviet days to add to my Chernobyl themed miniatures collection. I'd already made similar ones for my Fallout miniatures (some of which are pictured on the board below), and I'd had this image from the James Bond film Goldeneye of the old statue graveyard. That seemed so appropriate for these dilapidated ruins in Ukraine.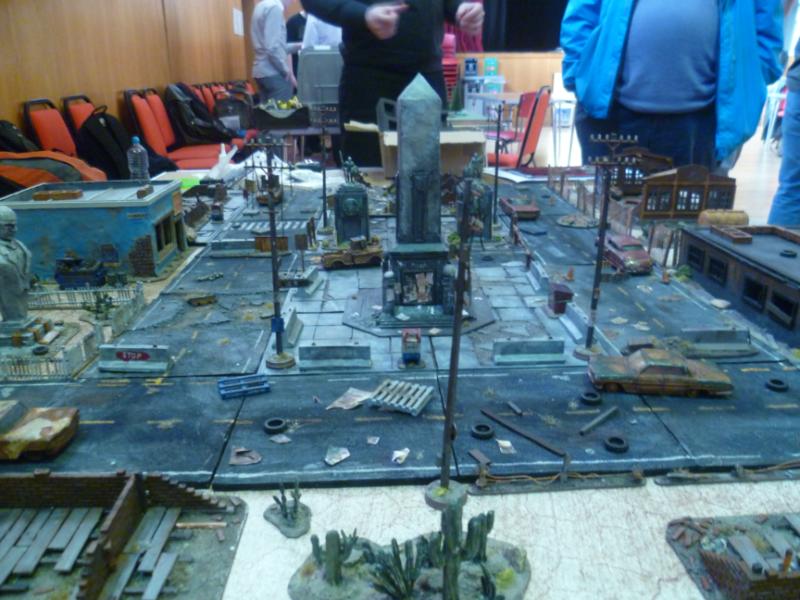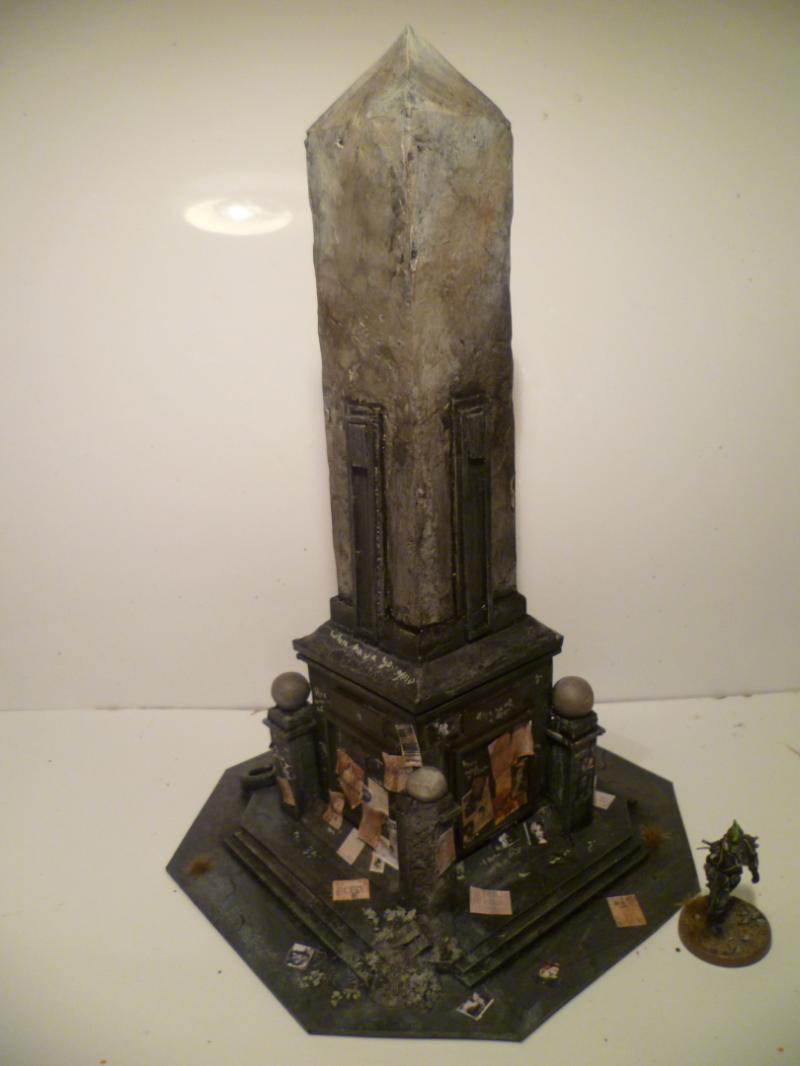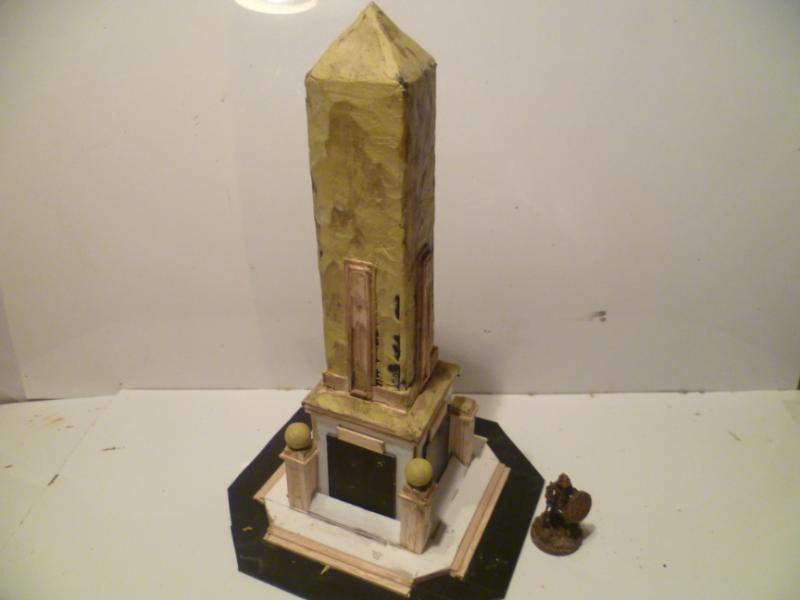 What happened though was I wound up becoming distracted by too many other different projects which seemed like a bit more bang for my buck in terms of what I could use them for. Until recently I didn't really have any of these old monuments. On a slow day at the office (or, well, home) the idea resurfaced and I threw together this piece.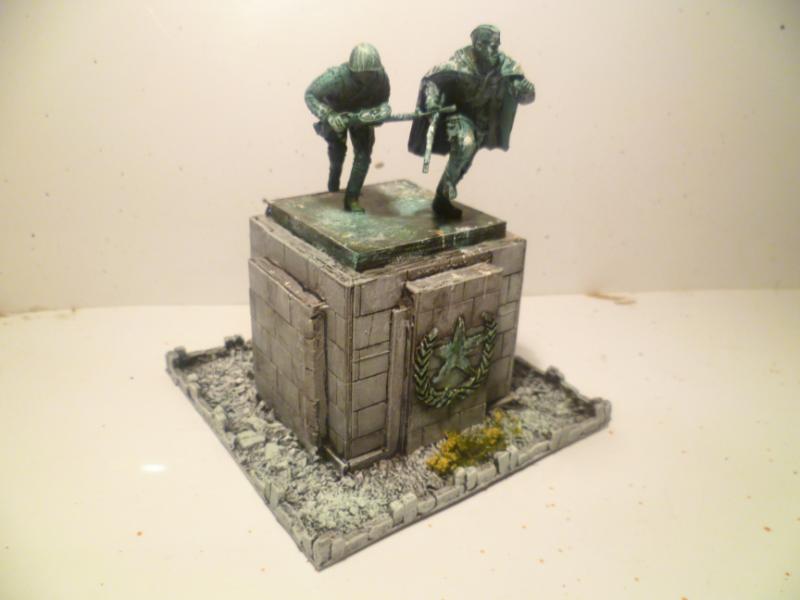 I'd bought that set with the intention of making just this, an old monument to WWII (ahem, the Great Patriotic War – keep that Anthem playing folks). Something likely sitting out in some rural town, surrounded by wood cabins and which an old lady would always remember to put some fresh flowers out every other week (ah, that is if all the little old ladies hadn't been chased off by the horrible shooting going on…).
That one was made from Tamiya's 1/35th scale Soviet Tank Rider set, just painted up to look like a corroded bronze and set on a plasticard and foam plinth. Simple enough to do.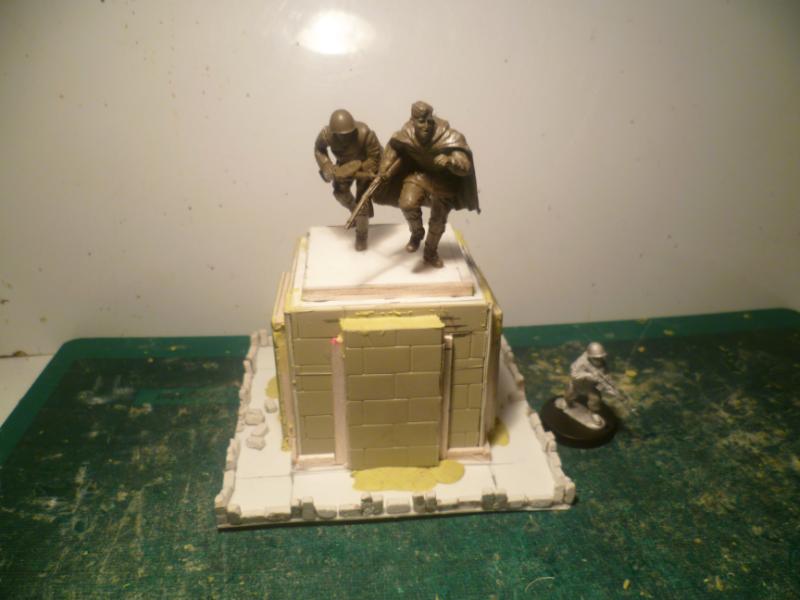 Though whilst that had been the idea behind buying that set, in reality I'd set aside my Chernobyl project at the time, and instead used one of the fine fellows in that box to, ah, make a Dwarven statue. …Perhaps beyond what the original sculptors had imagined the kit ever being used for. 🙂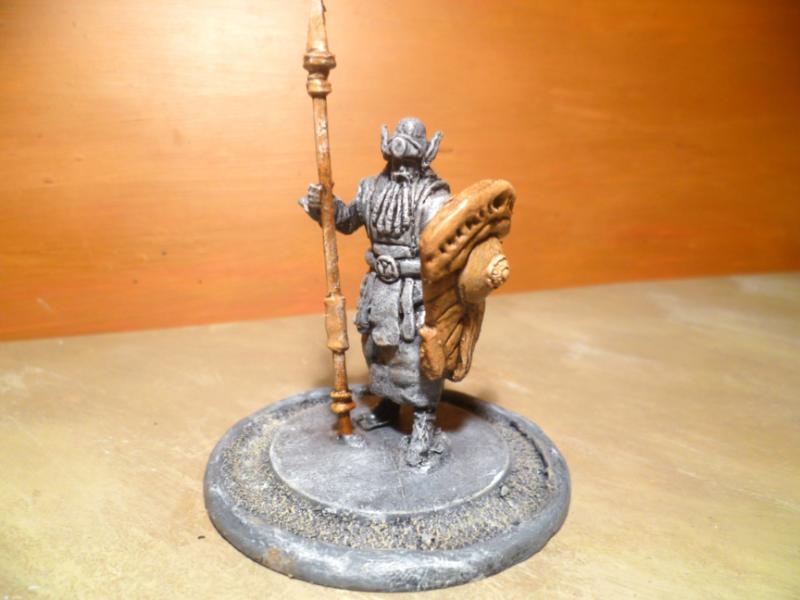 The Model
Which brings us to today and my current project.
Since starting my modern miniatures collection I've had a lot more experience with T-34s, after I took a hiatus to …well go overboard making a World War II tank collection (I think the final count on painted and unpainted tanks was in the 90s). See I'd also gone ahead and bought a KV-1 and a T-34/76 when picking up those Soviet infantrymen. Back in the day when these 1/48th scale Hobbyboss kits went for the princely sum of £9.99 each (now they're more like £20). With pricing like that however, they found themselves thrown on a shelf and forgotten about as I worked on the more expensive stuff.
Over the years I managed to lose the KV-1 in some box, and looted the kits for spare parts. If there's one thing to praise about these kits its the sheer number of spare parts, as both kits come with full interiors. Ah, I also nabbed many of the track links from the kits for adding on as extra armour to my WWII German vehicles.
So I was left with the shell of a T-34/76 kit. The major pieces were there, but I had to leave off a load of the detailing and improvise a few of the parts. Ideally that it has some Tiger roadwheels will go unnoticed, and that its missing a load of its fittings and has one very loose (some would say broken and with half the links stolen!) could be chalked up to poor maintenance by the local town council. A tank's a tank though, and that's all I needed for my purposes (I could have gone ahead and used that spare British Crusader tank …though I don't think that would be quite so appropriate).
Luckily I found this thing, as otherwise I was eyeing up a lovely Tamiya IS-2 for the same purpose. …And I don't have the heart to go spending £25 on a tank just to slap it on a plinth. 😦
The plinth here was built in a similar fashion to the one of the above statue. A foam core cladded by plasticard sheets (from Wills Kits scenic line). I was a bit more adventurous when building this one compared to most of the monuments you see mounting these vehicles, and raised it up a bit and added stairs to offer a bit more cover for war gaming pieces too.
Painting
As for painting it, well, the town council was really strapped for cash and didn't have the time to go out and give it a new paint job. In fact I think they may have been the ones stealing all the parts to sell as scrap… (you can stop playing that old Soviet Anthem now btw).
I went for a vehicle painted up sort of in its original style (I wasn't too concerned about exactly matching a WWII era paint job, as it would likely have been repainted since then), though with my usual overdoing of all the grime and dirt effects. Looking like its been up there for a good few decades without the locals giving it much care (though didn't go as far as covering it in graffiti; whilst thematic to really grind in people's respect for history, ah, I'll leave that for my other bits).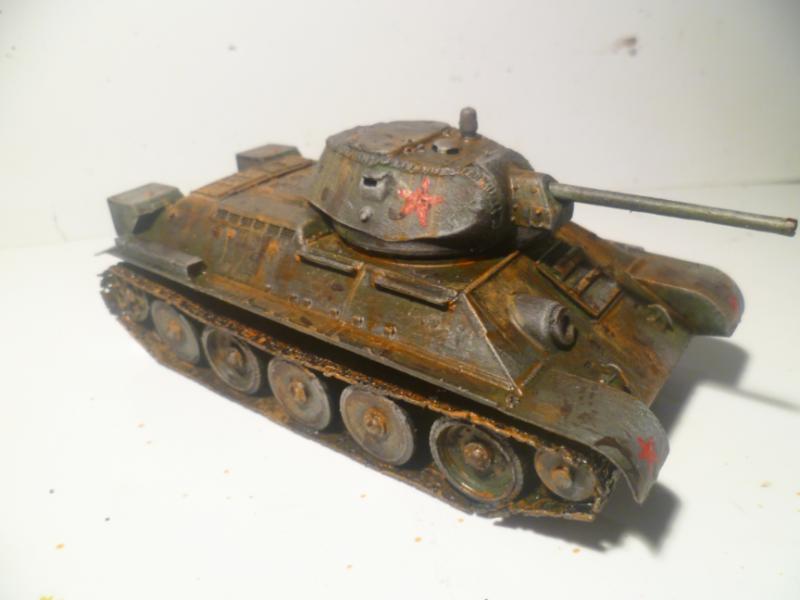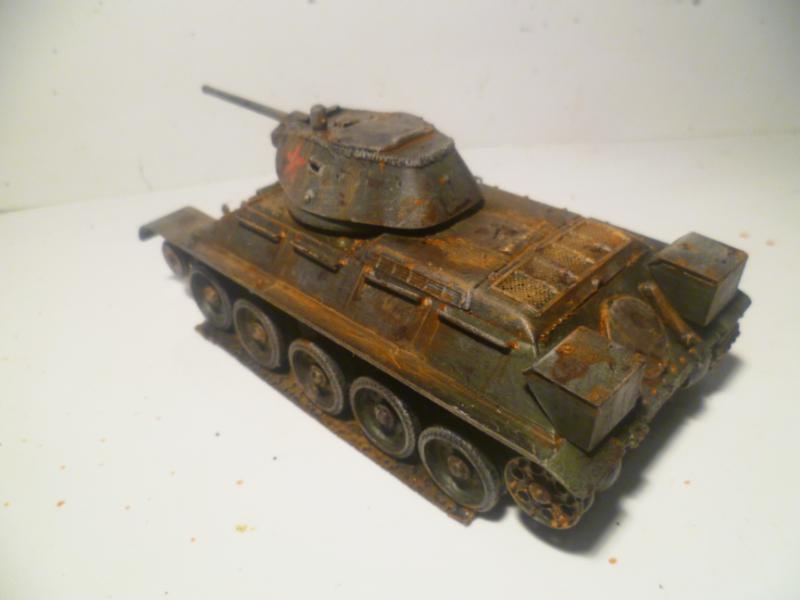 As for the plinth, its your usual Soviet era affair of slabs of brickwork stacked together in a Brutalist fashion, done up to look like a mix of concrete and locally sourced materials. Again, the grime's maybe a bit overdone as usual, but that's long now seemingly been my trademark. I dunno, maybe I just live in a dump. 😉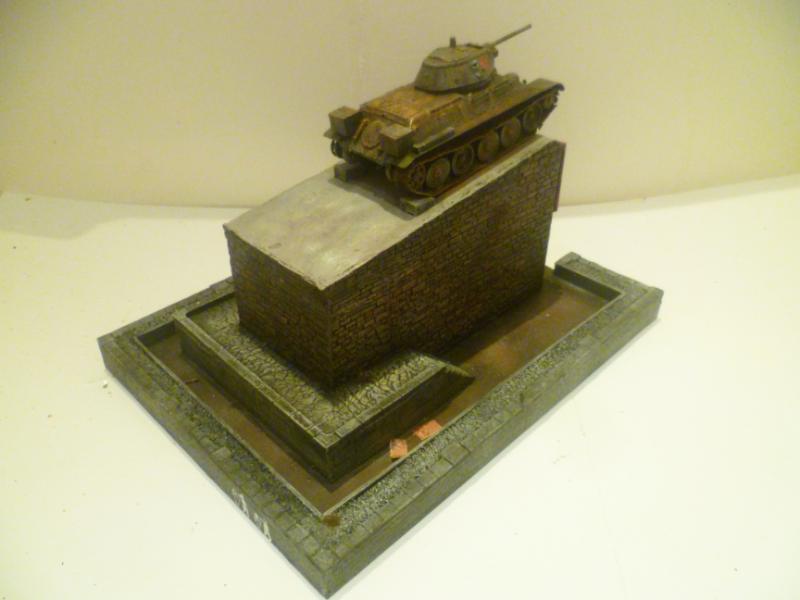 The obligatory beer bottles come from Black Cat Bases. 🙂
Closing
That's one off of the bucket list for this collection now. I've been pining after one of these for years ever since I started on this European stuff, and it should be a crowd pleaser when setting up some city boards.
Now hopefully one day I can put together some nice tall apartment blocks so I have some actual terrain which can see over this thing. Perhaps I'll try and rehabilitate that old 50s office building I built years ago, but did nothing with (if I can work out how to carry it to games). I was considering using it as either a department store, or just an abandoned set of offices from the Soviet era.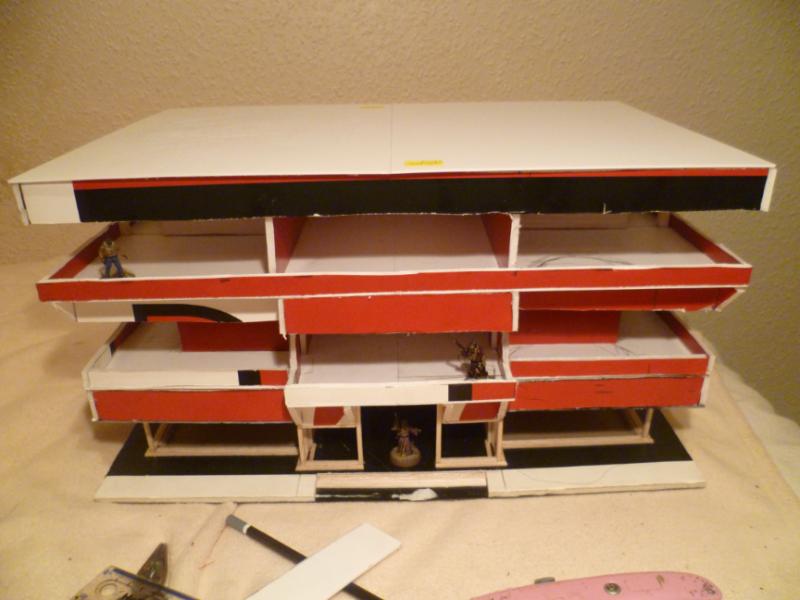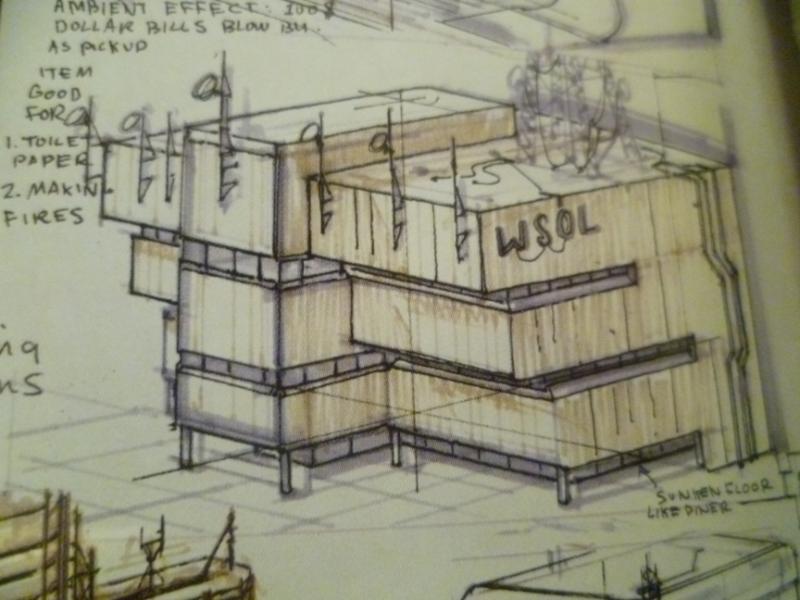 And there's always this big head… 🙂